---
How does it work?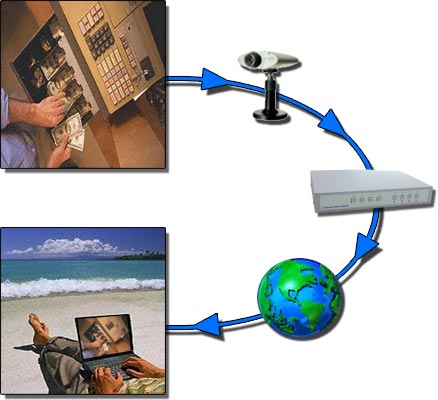 While the technology that drives our cameras is quite complicated, the basics of how it works is remarkably simple, and the best part is that iWATCHLiVE.COM handles everything for you.

We begin with any remote location that you want to monitor. We'll install one of our high quality Video Camera Systems to capture all the Live action. The cameras send the images to the Video Server which streams it to the Internet in Real-Time. Once on the internet, your Video is Securely forwarded to you wherever you are. This gives you the ability to monitor any location, at any time and from anywhere. So relax and see for yourself what goes on when you're not there.
---
How does the camera connect to the Internet?

Our video systems are optimized to work the best over low cost broadband solutions such as DSL or Cable. While other options like phone modems, wireless ISP's and T1 lines are possible, we recommend DSL for its balance of cost vs. performance. Our system can utilize any high-speed DSL line that has a Static IP address. A Static IP Address is an address assigned to you that never changes and is the type of IP address that is required for professional systems.

Once the camera is installed and connected by us to the internet, it is ready for use. If you are using it as part of your web site, we encode the necessary references to the video feeds into your web site and from there your visitors can see all the live action. If the cameras are being used for private surveillance, you select a username and password that allows you (and only you) to watch your live video feeds. It couldn't be easier.
---
Do I need a computer to connect these cameras?

No. Our web cameras, video servers and DVR's are all self-contained hardware solutions. They are able to 'Stand Alone' and do not need to be connected to an additional computer to function. This minimizes the common PC related concerns; such as crashes, security breaches, slow performance, viruses and user errors. Our systems then connect directly to the internet and only use computers for remote viewing of the video from anywhere in the world.
THESE ARE NOT TOY PC CAMS!
iWATCHLiVE.COM's cameras are high quality, hi-resolution surveillance devices with all the power and flexibility of a professional security system with the added ability to stream video through the internet in real-time. Our cameras are also compatible with a complete line of accessories including lens, weatherproof housings, covert, wireless, infrared, time-lapse VCR's, DVR's and more.
---
Do you charge a monthly fee to use the cameras?

No. At iWATCHLiVE.COM, we sell our Live Video Over the Web Camera Systems on a pure hardware cost basis. This means that once you purchase a camera system from us, you own the equipment and you don't need to pay us any monthly fees to keep your camera system operational.

You do need to maintain an Internet Connection from an Internet Service Provider to allow access to your cameras from the internet. We can assist you in setting this up, but any fee is paid directly by you to your ISP and is completely separate from iWATCHLiVE.COM.
---
Can it work with my existing security system?

Yes. We can wire our video servers directly into your existing security system. This allows you to use your existing cameras and send the video over the internet. And don't be concerned: we give you the ability to limit access to the camera feeds to only those people you wish to see them. Each person is assigned their own username and password for added protection.
---
Can I monitor the camera on my computer network?

Yes. Our cameras can be monitored by any computer that is on the same network as the web cam is setup on. This means that you can watch the feed from the camera from any office in your building that has a networked computer in it even if you don't have a connection to the Internet on that computer.
---
Can I surf the web on the same internet connection the camera uses?

Yes. Our systems can be configured to allow you internet access using the same broadband connection that the cameras use. This means that you will have the ability to use e-mail or surf the web with blazing speed from any computer in your home or office without needing an additional internet account.
---
Do you ship your systems?

Yes. We regularly handle mail-away systems. We configure the Video Server and the rest of the system here at the office, and ship it with plug & play cables and complete instructions. Our technicians are also available for patient phone support until any difficulty is resolved.
---
Can I install my new system myself?

Yes and No... This really depends on how handy you are and how complicated the installation is. While we have designed our systems to be plug & play, the actual running of the cables is the part you might want help with. To make the installation look as good as possible and to make the wires as hidden as possible a professional installer may be your best option.

iWATCHLiVE.COM does complete professional installations in South Florida. If necessary, we can also assist you in locating a professional camera installation company in your area. For the most part though, our systems can be installed by any handyman with a drill. So if you think you can do it yourself, you probably can.

Of course, if you go wireless, you don't have to worry about the installation...
---