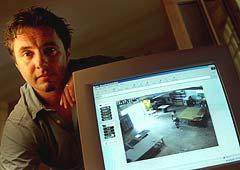 Around the world, Web cams are pointed at everything from fish tanks to
college dorm rooms to the steps of a church in Poland, but some of the most practical uses of digital cameras connected to the Internet these days are business systems.
''We can connect your camera right to Internet so you can watch it live from anywhere you have access to a computer,'' said Adam Cohen, co-founder of iWATCHLiVE.COM , a South Florida company that specializes in Internet video surveillance and live Web cams.
iWATCHLiVE.COM is developing a list of clients who want to keep an eye on business. Most of their customers are using Web cams for surveillance -- monitoring everything from a cash register to the back door to progress on a construction site.
Nicolas Trujillo, one of iWATCHLiVE.COM's clients, said he saved himself a trip to the office the other night when the alarm went off. ''I was able to log in and see that it was the cat. Someone had forgotten to lock him in the office for the night and he set off the motion detectors,'' he said.
Trujillo, who owns Luna Bella, a Hialeah lamp and home furnishing manufacturer, said he set up the Web cam system to monitor production and keep in touch with his staff when he is out of the office.
''This is a very hands-on company,'' he said. ``Everything is individually made so I need to keep an eye on things.''
Like many manufacturers, Trujillo said much of what he does in his business is walk around to check on employees and answer questions. Now, he can do it remotely. Last week, he logged on while he was on a business trip to California.
Trujillo has three cameras set up at Luna Bella, two stationary cameras in key areas of the building, and one pan-tilt zoom camera that covers most of the rest of the work area, with a 360 degree turning radius that can be controlled remotely through his Internet browser.
``If I zoom in on a table where someone is working, it's like being there. I can see what colors they are using and make sure the settings are right.''
The detail is so good, he added, ``I can actually read the time on somebody's watch.''
At first, Trujillo said, his employees were nervous about being watched by the cameras, but after some reassurance and a demonstration of how the system works, staff seem to have gotten used to the idea.
''I've never reprimanded anyone for something I saw over the system,'' he said. ``I don't want them to think I got this because I don't trust them.''
Trujillo also uses the Web cams to provide potential customers with a virtual tour and showcase products. He recently gave access to a buyer from Neiman Marcus to show her his production facility when she was considering adding his products to the catalog.
Casinos in Las Vegas were some of the first to implement live video over the Web for surveillance, Cohen said. They figured out how to integrate their closed circuit camera systems and broadcast the video streams privately and securely over the Internet.
Some uses of surveillance cameras are more personal than others. iWATCHLiVE.COM recently received a request to set up a Web cam in a nursing home so family members could keep an eye on their grandfather.
Because the latest cameras are so small and can be set up with no wires or computers nearby, you may not even know you're being watched by one. These systems are increasingly controversial as the courts weigh consumer and employee privacy rights against the interests of business owners.
Brian Nelson, a senior associate at Ackerman Senterfitt and a specialist in technology transactions and Intellectual property law for nearly seven years, said no law in Florida specifically addresses Web cams, but based on other laws and precedents, employers should make sure they have a legitimate business use, such as promoting productivity or security in the workplace.
Most of the cases against Web cams in the past have had to do with lewd and lascivious activities and voyeurism, Nelson said, noting employers should avoid Web cams in places where employees could have a clear expectation of privacy, such as bathrooms or changing areas.
Not all Web cams are supposed to be private. Cohen is setting up Web cams at clubs in South Beach designed to broadcast the dance floor and interact with DJs from other clubs around the country.
Janine Warner is a consultant, speaker and author of several books about the Internet, including 'Managing Web Projects For Dummies.' To learn more, visit her website at www.janinewarner.com.